Nordic Council considers Estonia an "adjacent area of interest" and has extensive official cooperation with the country. Estonia is also often invited as an official guest to the Nordic Council events. However Estonia is currently not an observer member in the Nordic Council.
There has been only one "official push" for Nordic Council by Estonia and it was in 1991, when Denmark and Iceland pressed for the Observer Status in the Nordic Council for the then-nonsovereign Estonia, Latvia and Lithuania. The move in 1991 was opposed by Norway and Finland, and was also heavily opposed by the Soviet Union, accusing the Nordic Council of getting involved in its internal affairs. On the same year, after Estonia, Latvia, and Lithuania gained independence the topic arise again but was rejected once more.
After 1991 there has been no official movements towards applying for the Nordic Council membership by Estonia. Today, the European Union membership offers many of the same features.
Below we have charted the official cooperations of the Nordic Council: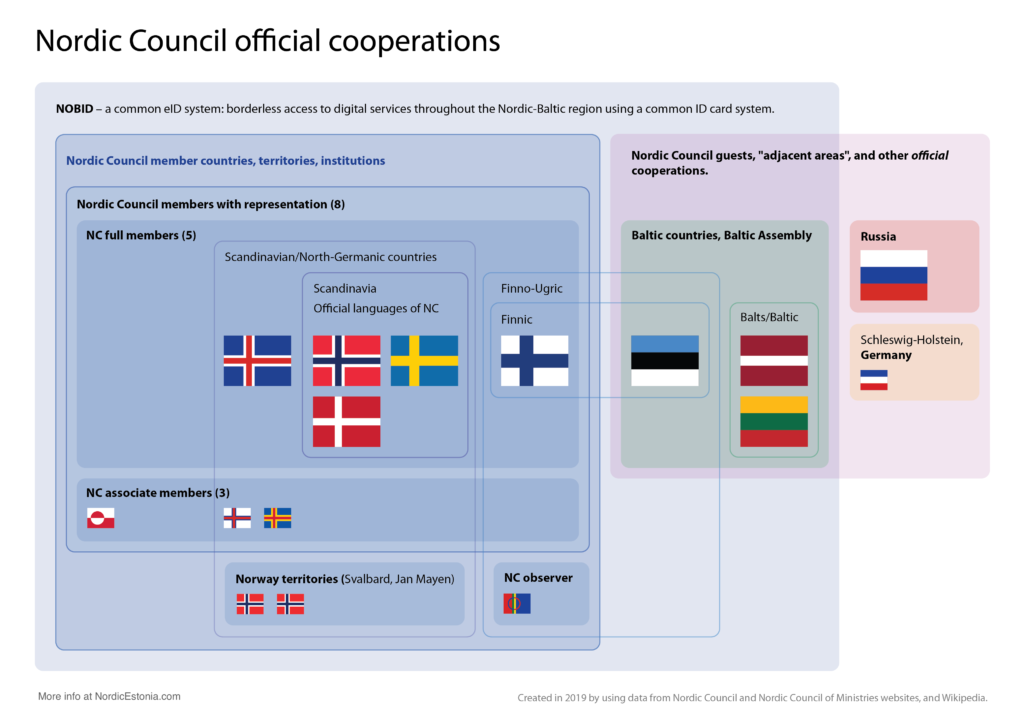 While there has been no official pushes for membership in the Nordic Council, many politicians have called for Estonia to develop towards the Nordic countries in spirit. Some notable people from Estonia who have been vocal about the Nordic Estonia topic are the previous President of Estonia Toomas Hendrik Ilves and the previous Prime Minister Taavi Rõivas (who hoped Estonia would become a "New Nordic" country), among others.
In a survey conducted by the Nordic Council of Ministers' Office in Estonia up to 91% of Estonians considered cooperation between Estonia and the Nordic countries important or very important. And 58% of respondents wished for further cooperation.