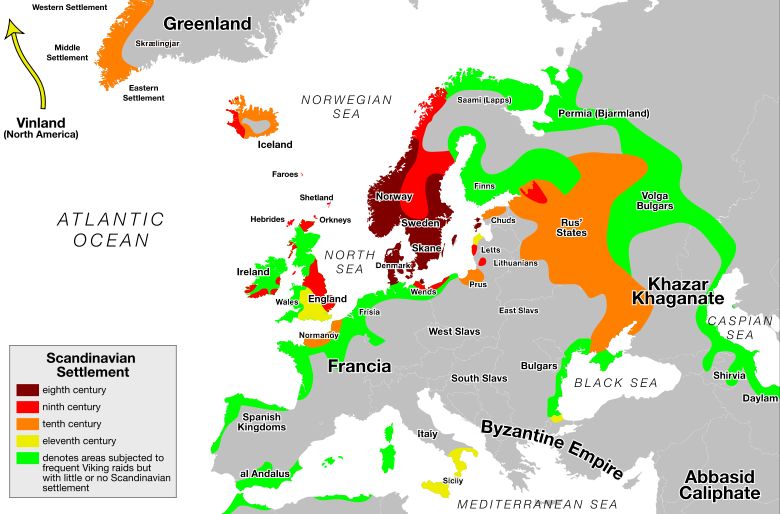 The dark red areas indicate original Viking settlements – notice the Estonian islands.
Estland (Eistland or Esthland) is the historical Germanic language name that refers to the country at the eastern shores of the Baltic Sea, and is the origin of the modern national name for Estonia. The largest island of Estonia is called Ösel in Swedish and its inhabitants used to be called Oeselians.
The Oeselians were known in the Old Norse Icelandic Sagas and in Heimskringla as Víkingr frá Esthland (English: vikings from Estonia).
The Livonian Chronicle describes the Oeselians as using two kinds of ships, the piratica and the liburna. The former was a warship, the latter mainly a merchant ship. A piratica could carry approximately 30 men and had a high prow shaped like a dragon or a snakehead as well as a quadrangular sail.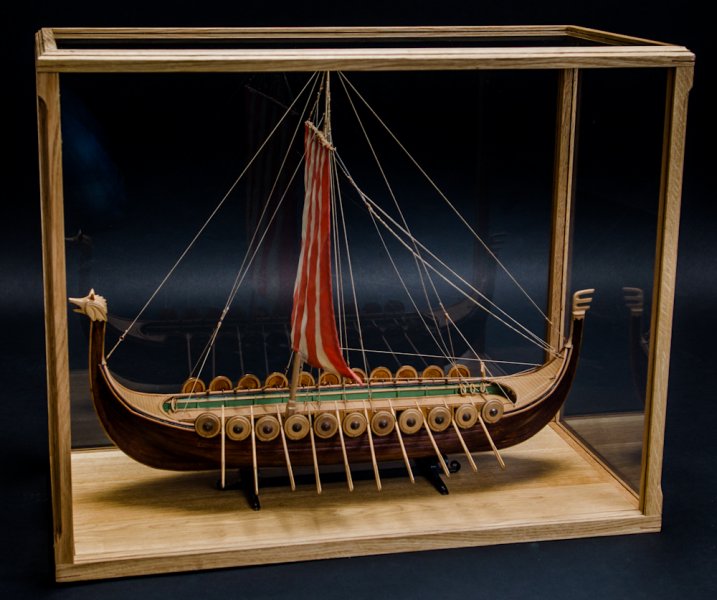 A battle between Oeselian and Icelandic Vikings off Saaremaa is described in Njál's saga as occurring in 972 AD.
On the eve of Northern Crusades, the Oeselians were summarized in the Livonian Rhymed Chronicle thus: "The Oeselians, neighbors to the Kurs (Curonians), are surrounded by the sea and never fear strong armies as their strength is in their ships. In summers when they can travel across the sea they oppress the surrounding lands by raiding both Christians and pagans."
Saxo Grammaticus describes the Estonians and Curonians as participating in the Battle of Bråvalla on the side of the Swedes against the Danes, who were aided by the Livonians and the Wends of Pomerania.
From the 12th century, chroniclers' descriptions of Estonian, Oeselian and Curonian raids along the coasts of Sweden and Denmark become more frequent.
The Chronicle of Henry of Livonia describes a fleet of sixteen ships and five hundred Oeselians ravaging the area that is now southern Sweden, then belonging to Denmark. In the XIVth book of Gesta Danorum, Saxo Grammaticus describes a battle on Öland in 1170 in which the Danish king Valdemar I mobilised his entire fleet to curb the incursions of Couronian and Estonian pirates.
Perhaps the most renowned raid by Oeselian pirates occurred in 1187, with the attack on the Swedish town of Sigtuna by Finnic raiders from Couronia and Ösel. Among the casualties of this raid was the Swedish archbishop Johannes. The city remained occupied for some time, contributing to the decline as a center of commerce in the 13th century in favor of Uppsala, Visby, Kalmar and Stockholm. [Some have addressed Sigtuna as the then capital of Sweden]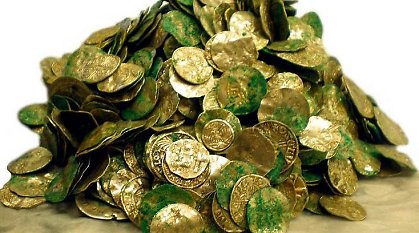 Viking-age treasures from Estonia mostly contain silver coins and bars. Compared to its close neighbors, Saaremaa has the richest finds of Viking treasures after Gotland in Sweden. This strongly suggests that Estonia was an important transit country during the Viking era.
Estonia constitutes one of the richest territories in the Baltic for hoards from the 11th and the 12th centuries. The earliest coin hoards found in Estonia are Arabic Dirhams from the 8th century.